P&G -
The Name
Made at
R/GA NY
---
Created by an all AAPI team, R/GA and P&G's latest campaign "The Name"
tells the story of a Korean American girl named Yeong Joo [yUHng-ju] Park and
highlights the importance of learning and respecting AAPI names as "American" names.
My role included
concepting
and
designing
the
social activation
and the
landing page
of the campaign. I've also particiated in preparing the
pre-production
deck.
SELECTED PRESS
AdAge
:
P&G's AAPI Heritage Month Ad Asks, What is an 'American' Name?
AdAge
:
The Top 5 Creative Campaigns You Need To Know About Now
NowThis:
Belonging Starts With a Name
RECOGNITIONS
ANA Multicultural Awards
Socially Responsible - Winner
Asian - Winner
Digital & Mobile - Winner
Landing Page ↓↓↓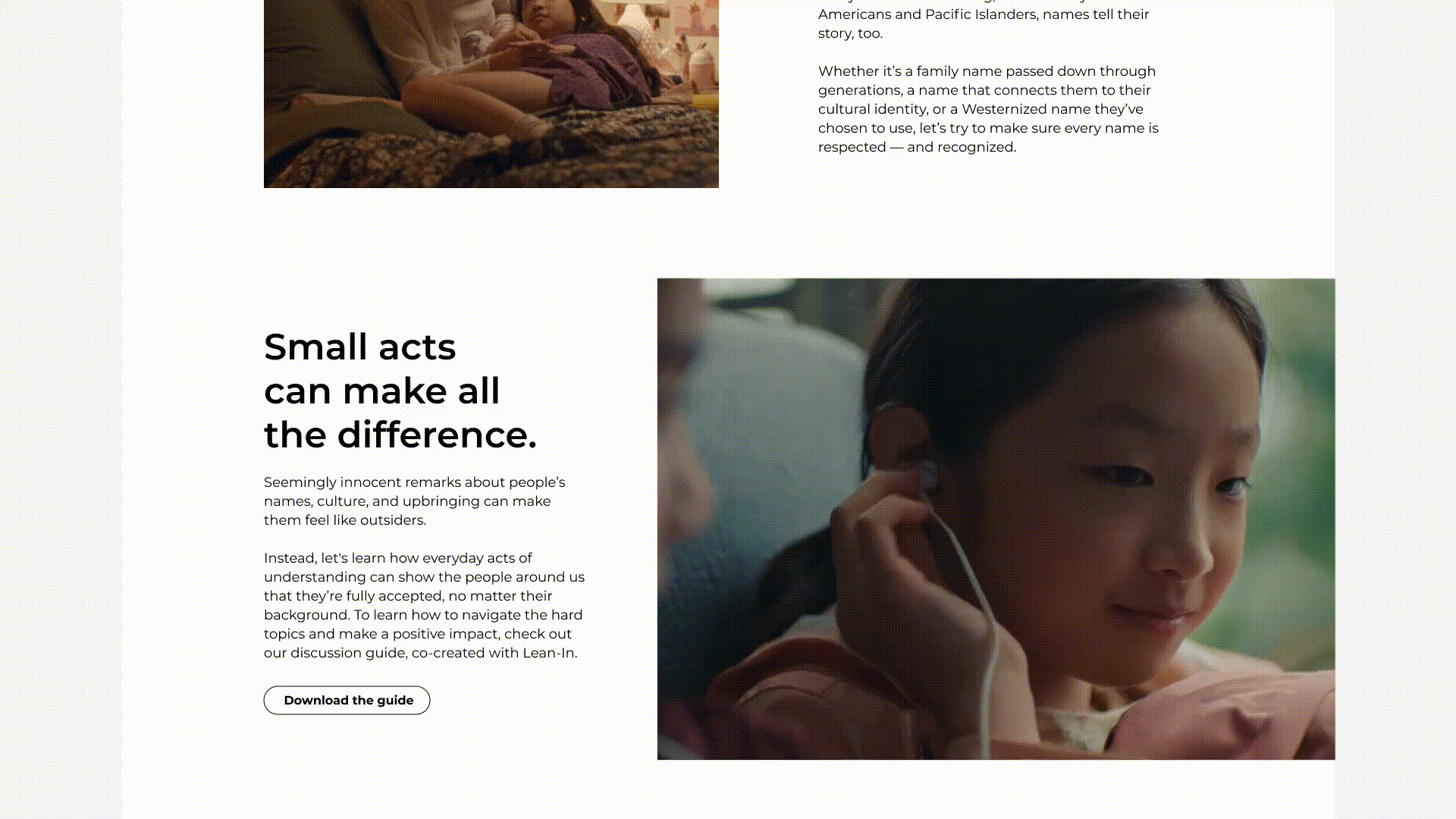 Social ↓↓↓
Credit

Agency: R/GA NY
R/GA
Global Executive Creative Director: Gabriel Cheung
Group Executive Creative Director: Por Hsian Zhang (Xavier Teo)
Creative Director: Leah Alfonso
Art Director: Woohyun Lim
Executive Producer: Sonal Heda
Copywriter: Maya Shaddock
Senior Content Producer: Greg Netter
VP, Executive Strategy Director: Meghann MacKenzie
Senior Visual Designer: Samuel Kim
Director: Goh Iromoto / Sanctuary
Cinematographer: Farhad Ghaderi / Mantl Reps
Editor: Sophia Lou / Cartel
Colorist: Kaitlyn Battistelli / Ethos
Music Composer: Andrew Seistrup